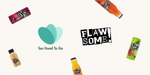 Did you know: Food and drink past its 'Best Before' date can be perfectly safe to eat! Only half of the UK knows this wonky bit of info and it leads to... You've guessed it, food waste! 
180,000 tonnes of perfectly edible food is binned every year, simply because it's past the Best Before date.    
To make sure our drinks aren't among the waste, we're taking part in the Too Good To Go 'Look, Smell, Taste, Don't Waste' campaign. We want to encourage you to be a food waste warrior by saving food and drinks that are past their Best Before date.   
If you have anything that is past the 'Best Before' date, ask yourself:
 1. Has it been stored correctly? 
2. Does it look, smell and taste okay?
 If the answer to both is yes, then it should be perfectly safe to consume!  
 Let's fight food waste together. 🤝