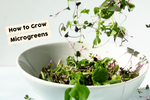 SO YOU WANT TO GROW MICROGREENS?
Got a green thumb but no garden? Perhaps you're looking for a fun, edible project to do with the kids. Microgreens are the perfect low-effort but high-reward project for those hoping to jazz up their salads.
 Instructions 
Would you believe us if we told you that all you need to grow your own microgreens is an old plastic container or fruit punnet? No need for soil! Grab a damp paper towel and place it in the bottom of the container.

Sprinkle over your seeds. If using peas, soak them for 24h then sprinkle on the paper towel. We love Dun Peas for a great flavour and high yield. You can find seeds at your local garden centre or online.

Cover over with another towel and spray with water. Repeat this water spray every day.

Remove the towel in a few days once you see germination, but keep spraying with water. Your microgreens will be ready in 1-2 weeks!