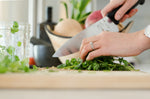 How do I make my kitchen more sustainable?
Keep your kitchen green with a few of our favourite sustainable tips that will help you save money, reduce waste and go plastic-free. Making your own kitchen supplies can be easier than you expect, not to mention the culinary adventures to be had by applying a little imagination to your food discards. 
 No need to be intimidated at the thought of going green, because zero waste never felt so effortless. Here are our 5 practices for a more sustainable kitchen.
Using the correct food storage methods will save you money and reduce waste. For example, adding dry towels to your greens, such as spinach and lettuce, will absorb excess moisture and keep them crunchy for longer. A well-designed bread bin will ensure those sourdough loaves stay soft and chewy, while sustainable beeswax "plastic" wrap can seal jars, cut fruit and avocados for extra freshness.
02. GO GREEN WHEN YOU CLEAN
It's no secret that nipping to the shop to buy a bottle of conventional cleaning spray is convenient, but as anyone with an allergy will tell you, these products are often packed with pungent chemicals and unnecessary ingredients. Not only are these irritating to sensitive skin, but they can also be harmful to our environment, filling waterways with harsh substances that damage aquatic life. 
 Thankfully, there are traditional solutions that will cut through green and put a shine on glass without hurting our planet. With just a few glasses or reused plastic bottles, you can mix your own cleaning supplies from kitchen ingredients including baking soda, vinegar and lemon peel — but if you have sensitive skin, make sure to avoid essential oils.
Zero Waste cooking has never been more popular, which is good news as 6.7 million tonnes of food is wasted in the UK every year*. In the past, discards such as banana peel and carrot tops would end up in our compost heaps or simply thrown away. But there are hundreds of delicious ideas out there to make use of your waste food, including traditional recipes like banana peel curry and new ideas such as a carrot top pesto. A quick search on social media will turn up tasty recipes you never expected. 
 *Source: cheaperwaste.co.uk
Buying your cooking staples in bulk at a plastic-free store doesn't just help reduce packaging, it can also be good for your wallet. Investing in glass containers will ensure dry goods are fresh and mould-free while keeping plastic waste out of rivers and oceans. 
 While buying rice and beans in bulk might seem obvious, have you considered purchasing washing powder or hand soap in bulk? Most zero waste and organic shops will have refill stations where you can pick up all sorts of household supplies while keeping things plastic-free.
Are you looking for a way to unwind after a busy week? Spend a slow Sunday making sustainable kitchen supplies, preserves and pet treats. Not only do these activities make great projects, they save money and plastic, ensuring you use only the most natural, earth-friendly ingredients. 
 Food waste can be saved and used to make dog treats, just make sure to check that they aren't intolerant to a particular ingredient. Juice pulp can be reused to make crunchy, high-fibre crackers in a few easy steps. Better yet, gather your friends and have a zero-waste party, complete with homemade cake and loose-leaf tea.