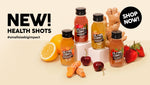 We're excited to bring sustainable health shots to you as part of our mission to save 20,000 tonnes of wonky and surplus fruit by 2026!  
Our shots serve the growing demand for functional drinks that contain additional vitamins and prebiotics, whilst staying true to the Flawsome! sustainable values of using wonky and surplus produce, glass packaging and offsetting carbon emissions! They're small in size, but BIG in impact. 
Immunity Kick, with ginger and vitamin D for a caffeine free kick and immune boost.
Gut Health, with wonky strawberries and prebiotics for healthy insides.
Immune Boost, with wonky cherries and vitamin C to boost the immune system.
Daily Defence, with turmeric and vitamin D to boost the immune system and healthy bones.


We're Bringing Purpose to the Health & Wellness Space
The functional beverage market is flooded with refrigerated shots, packed in small plastic bottles and made with products that are grown to order. We decided to craft a 60ml health shot range as sustainably as possible, because we knew we could have a BIG impact! 
 Saving real wonky and surplus fruit 
 Ambient storage to avoid energy consumption from refrigeration
 Indefinitely recyclable glass bottles
 Paying farmers a fair price for their fruits, vegetables and tubers 
 Carbon positive, offsetting all the emissions of production 
 Good for you and the planet too
"1.3 billion tonnes of food is lost or wasted every year at all levels of the supply chain, from the initial agricultural production all the way to the final household consumption. It was essential for us as a brand to serve the growing demand for functional drinks, while pursuing our mission to save 20,000 wonky and surplus fruit by 2026. Every shot gives you the nutrient you need to kick start your day, while reducing food waste along the supply chain." - Co-founder Maciek Kacprzyk
Order Your Pack of Sustainable Health Shots Now! - LINK